A range of options to fit your needs
---
Symporus provides the best in learning management software and support through Pathwright, a next generation learning management system.

Each package includes startup support and provides 1,000 seats that can be used for any combination of learners, observers, mentors, or teachers. Additional seats can be purchased with any plan. Features and monthly costs are as follows.

Interested in a scholarship? Apply here.
Core Platform Features
Pathwright is an all-in-one design, learning, and teaching platform for reinventing your world of education. Check out all that it can do.
Make happy learners with a user-friendly learning experience
---
With Pathwright, your learners can...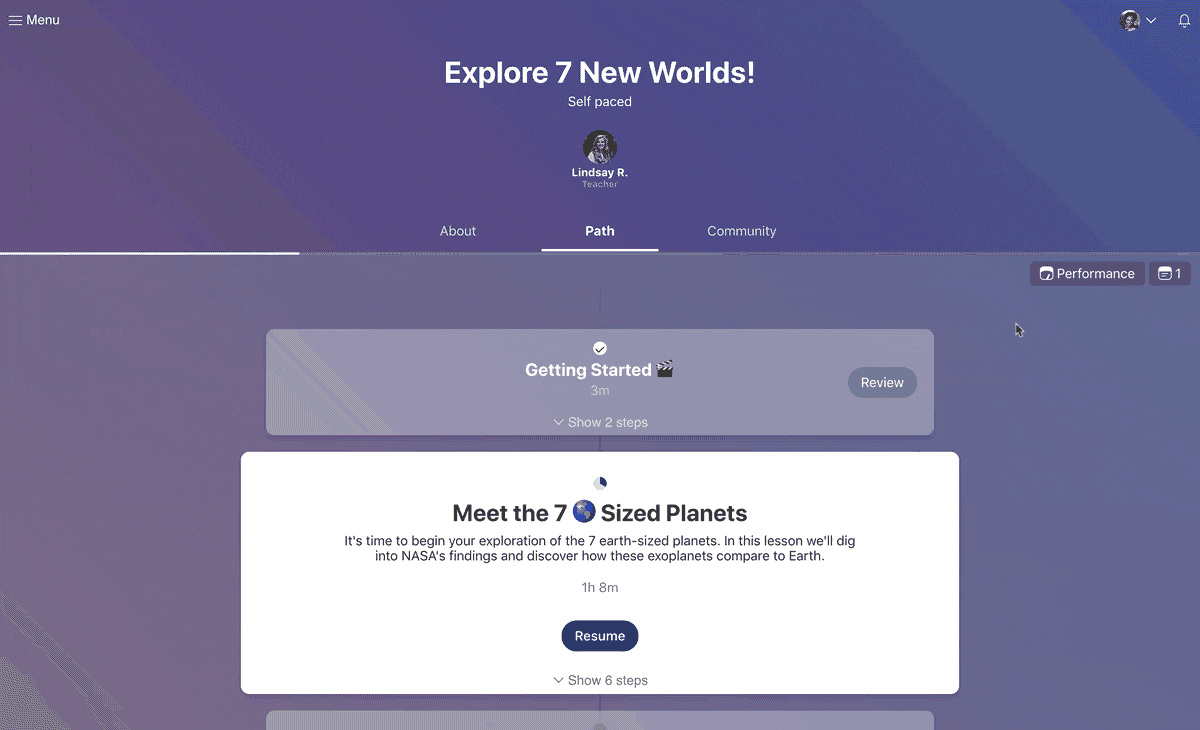 Learn anywhere
Take courses from any screen or device—even your phone.
Take notes
Write, review, and print notes from anywhere in the path.
Ask anything
Chime in on discussions and pose questions for your learning community.
Keep focused
Know where they are and what's next with a handy path that always shows the next step.
Stay engaged
Stay on track and up-to-date with email and in-app notifications for due date reminders, discussion responses, feedback, and more.
Be in the know
Set up a daily, weekly, or monthly email digest of everything happening across all their courses.
Own their learning
Access all the courses in which they're enrolled from a centralized home screen.
Keep things personal with a human-centric teaching experience
---
With Pathwright, you and your teachers can…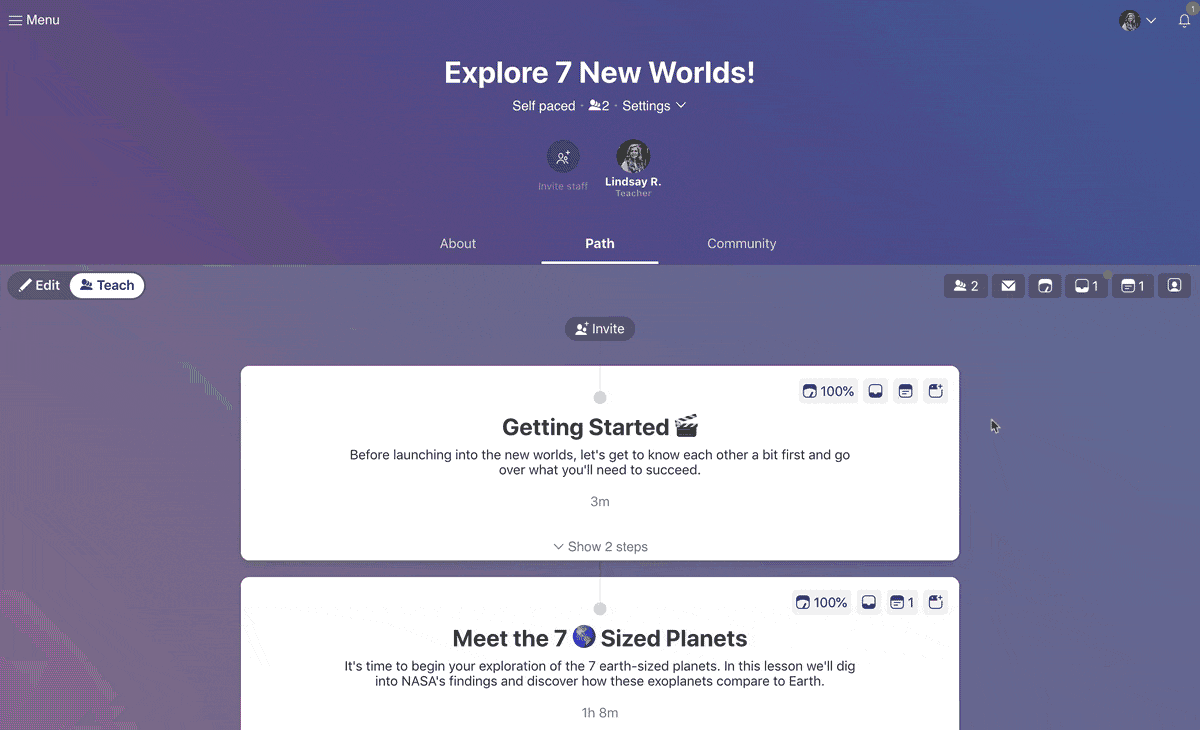 Teach anywhere
Connect with learners from any screen or device—even your phone.
Review progress
See student progress at a glance. Check who's completed what and who needs to catch up.
Set a schedule
Add start dates to lock access to the content until an upcoming date. Use due dates for assessments, live meetings, and projects.
Give feedback fast
Grade everything easily with our super-fast workflow. Add personal feedback for each student.
Schedule anything
Keep everyone on track with due dates, automatic reminders, and personal messages.
Control access
Make your course private, public, or for members only. Optionally, set registration and access windows, including seat limits.
Engage learners
Start and participate in class discussions and still have time to respond to individual questions.
Keep current
Get in-app and email notifications for anything you need to grade or respond to.
Ask someone to answer
Use the Ask To Answer feature to assign a question to a specific staff member who's most qualified to answer.
Reply by email
When you reply to questions and discussion email notifications, your response will automatically appear in the app.
View stats
Quickly evaluate completion rates and performance stats for your whole course, each lesson, and each step to see what needs to be refined.
Teach anything with an easy-to-use path designer
---
Make a path from unknown to understanding that anyone can follow. You can…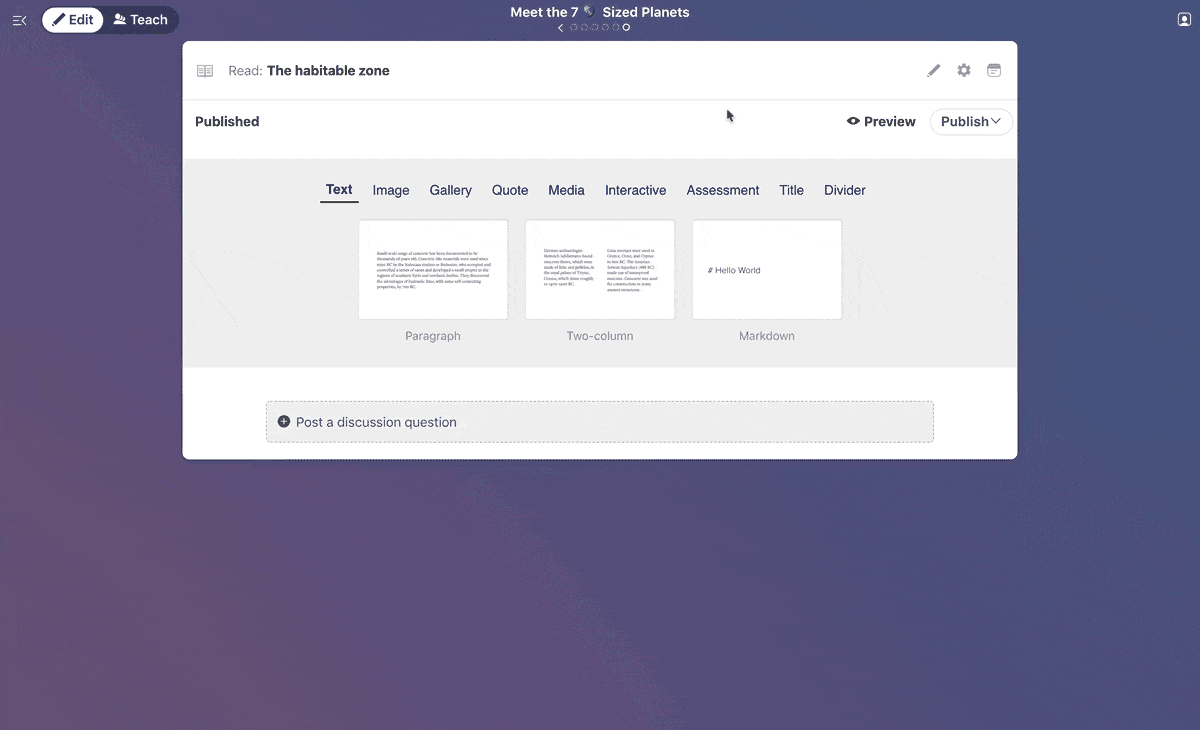 Edit on any device
Create and update every part of your course on any screen—even your phone.
Add readings
Create great-looking readings, exercises, and assignment instructions.
Share extras
Post attachments and notes to guide your learners further.
Customize each course
Add cover art and backgrounds to create a unique environment for each course.
Plan projects
Assign projects and collect any type of student work—papers, images, videos, and more.
Keep score
On any step or project, add automatic grading or awarded points personally.
Design in minutes
Use the drag-and-drop Path Builder to map out each lesson before adding your content.
Create assessments
Create practice quizzes, tests, or study guide-style assessments. Optionally, add answer explanations to make things clearer.
Keep some things optional
Choose to make any step Required or set it as Optional for those extra-milers.
Show and tell
Include video or audio media for lectures, demonstrations, etc.
Plan discussion
Post discussion questions on any learning step to help learners make connections.
Embed nearly anything
Embed almost any kind of hosted external content.
Only manage critical things with intuitive management tools
---
Everything else runs itself. You and your managers can…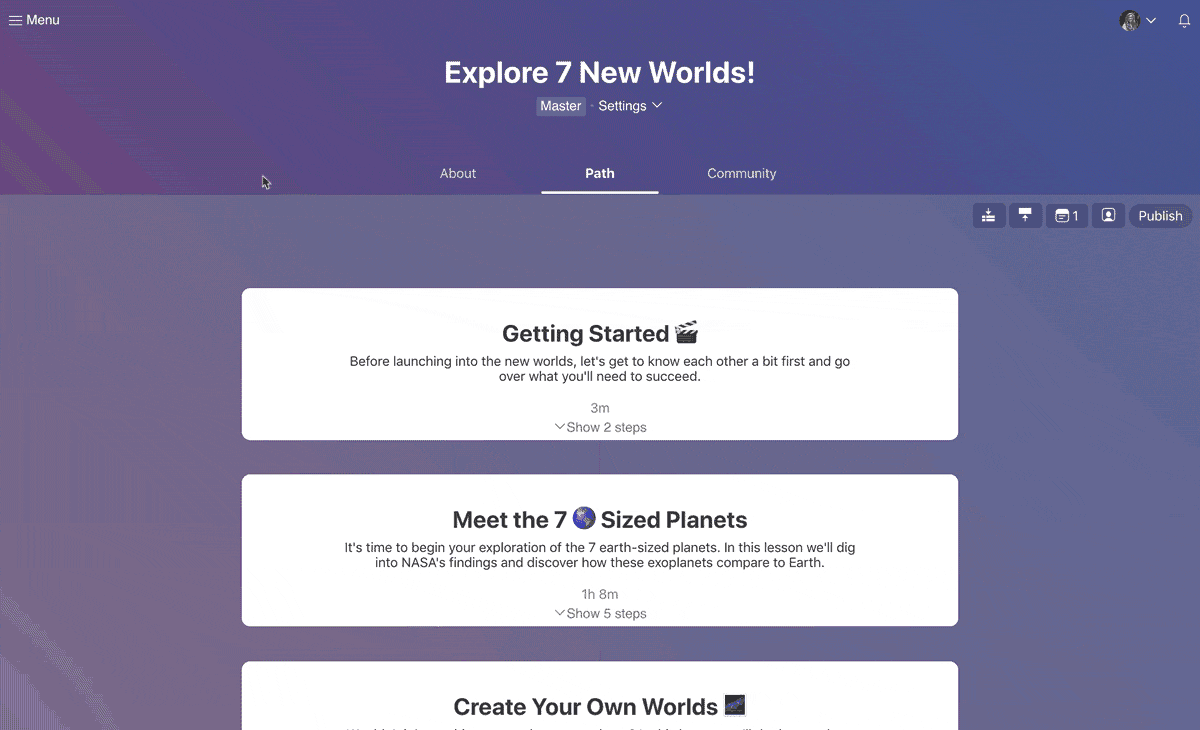 Work on any device
Manage and configure everything anywhere, on any screen. (Have we mentioned this already?)
Manage members
Review learner progress and manage access all from one screen.
Stay secure
Rest easy with full SSL encryption on every screen and daily back-ups. Pathwright protects your information and members.
Personalize and brand
Customize your colors, logos, images, and more to match your brand.
Download reports
Access and download detailed reports for course registrations, progress, members, and more.
Get free upgrades
Get weekly enhancements and bug fixes without installing anything (ever).
Control access
Control who has access to your whole school or a any course in a matter of a few clicks.
Skip the install
Pathwright is securely hosted in the cloud. You'll never have to download anything.
Integrate easily
Integrate with Google Analytics, Intercom.io, and more (pretty much anything with an embed code).
Commerce
Sell with confidence using flexible commerce options
---
Set prices, sales, previews, and more from your built-in beautiful storefront. You can…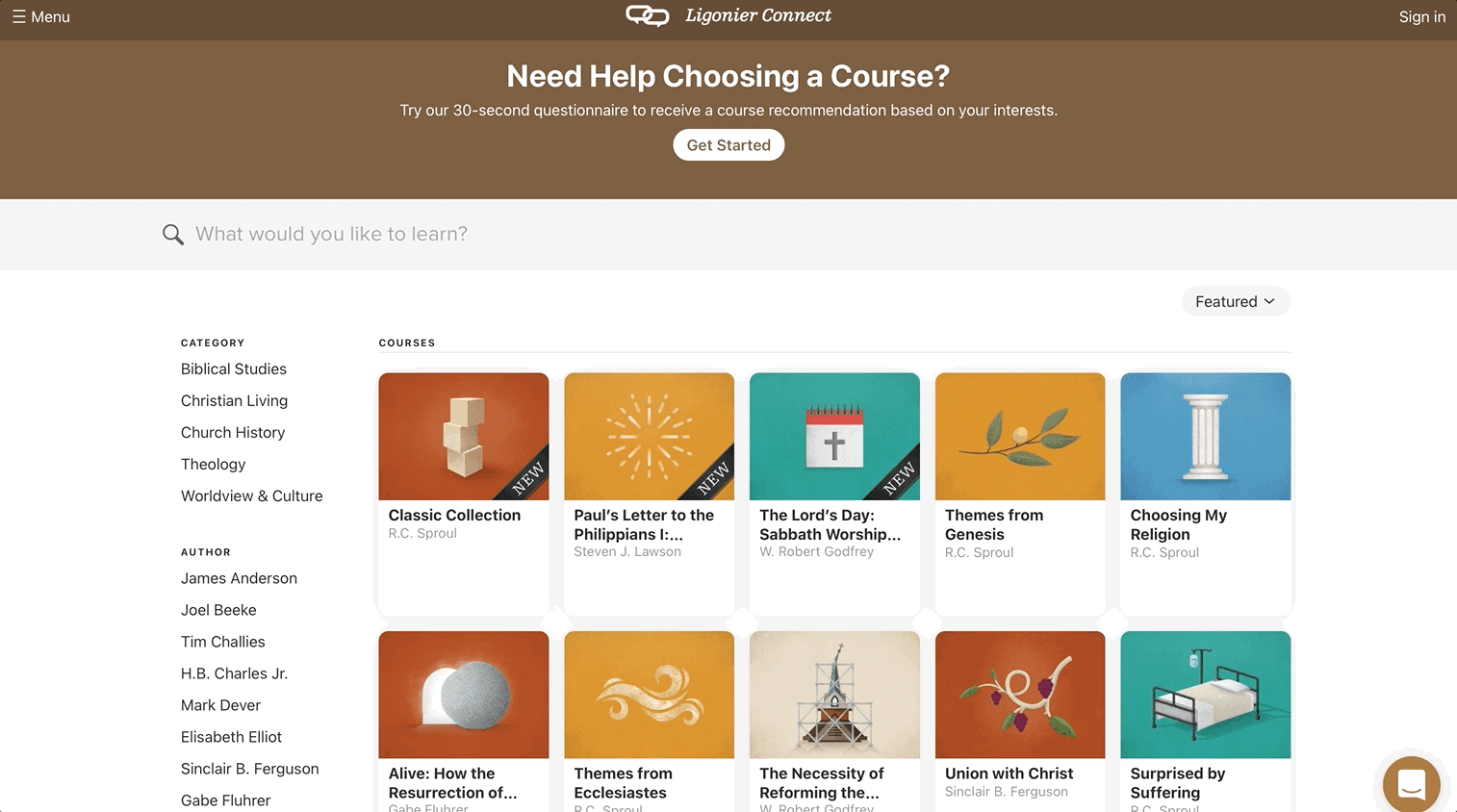 Grow a sustainable livelihood
Set prices, sales, previews, and more from your built-in, beautiful storefront.
Price courses your way
Start selling any course for any price in less than a minute.
Sell subscription plans
Sell multiple subscriptions that unlock access to all your courses or just few. Set subscriptions to renew monthly, yearly, or both.
Collect payment
Integrate with Stripe.com, one of the most powerful and fastest growing payment gateways in the world.
Offer preview access
Optionally set any part of your course to Previewable. Visitors get a sample of your content before committing.
Offer trials
Create free trial periods for monthly subscriptions.
Say goodbye to extra fees
Pathwright won't take a cut of what you make. The only transaction fees you'll incur come from Stripe, the payment provider—2.9% + 0.30 (or whatever price you negotiate).
Sell courses at multiple price points
Sell multiple versions of your course to unique cohorts.
Do less admin
Don't worry about tricky admin work. Your subscribers have full control of their subscriptions—they can update their cards or cancel all on their own.
Stay secure
Rest easy—all payments and user information are encrypted under Certified PCI level 1 compliant.
Offer discount codes
Offer percentage discounts on any version of a course. You'll have full control over the number of uses, reuse by multiple people, expiration, and more.
Control your money
We won't touch the money you earn. You have full control over all your earnings directly in your Stripe.com account—including payouts, refunds, and reports.
Sell courses to cohorts
Sell courses to a whole cohort with the Member-Created Cohort feature.
Remind automatically
Let us send reminders for you. We'll notify your subscribers when their card expires based on your Stripe.com settings.
Sell gift subscriptions
Offer gift subscriptions as an option for any number of months with printable and emailable gift cards.
Discount subscriptions
Offer discount codes to add any number of free months to a subscription and quickly apply it with a link.